When I describe my husband as an industrious little ant, I mean it. He can work, work, and work, and do these amazing things that would probably take most husbands 3 times as long to get done. He works non-stop, especially when it comes to a project. He wants it done. Weekend before last, he spent all weekend demo-ing the fence and pulling up the posts so we could get our back fence replaced. We hired a guy to replace the fence because, well, Mike has to work during the week.

I then told him I wanted the garden expanded. He had the double gate moved to the other end of the side fence to open up the area by our current garden, and he expanded the garden area this weekend. About 6 times its current size, from a meager 130 sq feet to 850 sq feet. He got himself a heavy duty tiller, put the tiller together and tilled the yard for approximately 10 hours straight yesterday. TEN hours. All while pulling out hundreds of pounds of the annoying limestone and caliche rock that is abundant in our area, along with the old posts from the first fence that we discovered. Domi helped. Then, the hubby came inside and made dinner for us.

Today, starting at 8 am, he brought in compost, from our own compost we've been "harvesting" for the last year, and an extra truckload of Turkey compost from the garden center, shoveled that in, then tilled it into the garden. He later tilled up that dirt and moved it from the flowerbed to the new garden area, (about 25 wheelbarrows full) then went back to the garden center for 2 more truckloads of really good Rose and flowerbed soil, shoveled it in, then tilled it. Domi was still helping. I don't think my boy has ever worked so hard in his life. Last year, he helped, but it doesn't compare to what he did today. They finished off by replanting the rose bushes. They're still in the yard cleaning up. I'm in here waiting for him with a cold cerveza and their favorite buffalo wings.

This is what makes my husband (and son) amazing.
AND the hubby still makes the time to read to his tot.


This is only the newly tilled area. The existing garden is to the left.



Replanting rose bushes.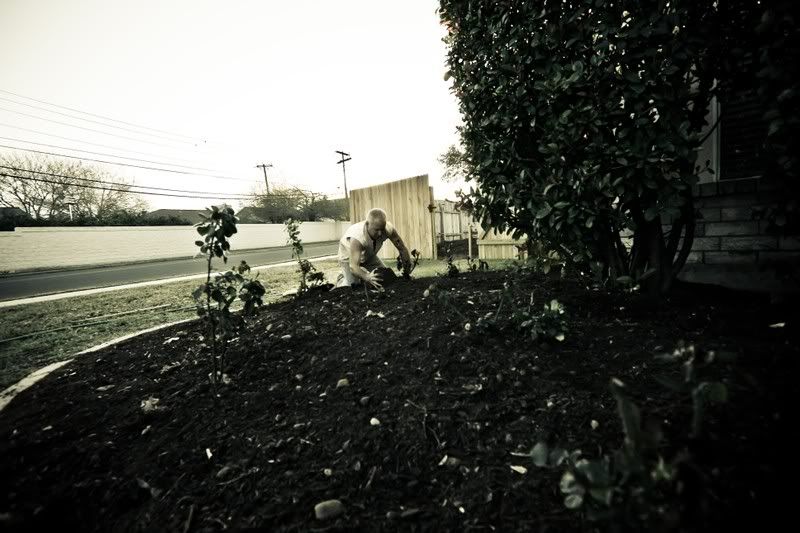 I took this photo below, of our blossoming plum tree while the guys were tilling yesterday, and I intitially chose for my BSM, but now that I've typed all this up, I think the others deserve to be my BSM. Whatcha think?